We're back with another quick how-to video! It's part of our webinar series that is designed to help you 'level up' your business game using tools you already use.

Productivity requires flow.
Finding a flow, or being focused on and actively engaged in what you're working on, can help you to be more productive. 
That's why Microsoft Search is so helpful. 
Whether you're analyzing data in Excel or writing a draft in Word, it helps you get into a flow by connecting you to the tools you need to get work done (without leaving the app – just sign in to your Microsoft 365 account). 
Have you ever turned to a search engine to complete a task or make decisions? Microsoft Search lets you search from wherever you are working. 
This week's Cheat Code shows you how you can use Microsoft Search. Watch it now!
Get more done in your Office Apps by using Microsoft Search. 
Whatever the task, you can use the search box to get it done quickly by simply typing in what you want to do. This can be especially helpful if you can't find the right button, or aren't sure how to do something. Save some time and let the search box find it for you. 

It can also help you find files, people, and other content across Microsoft 365. If you need more, you can expand your search to the web by using Bing (without leaving the app or window).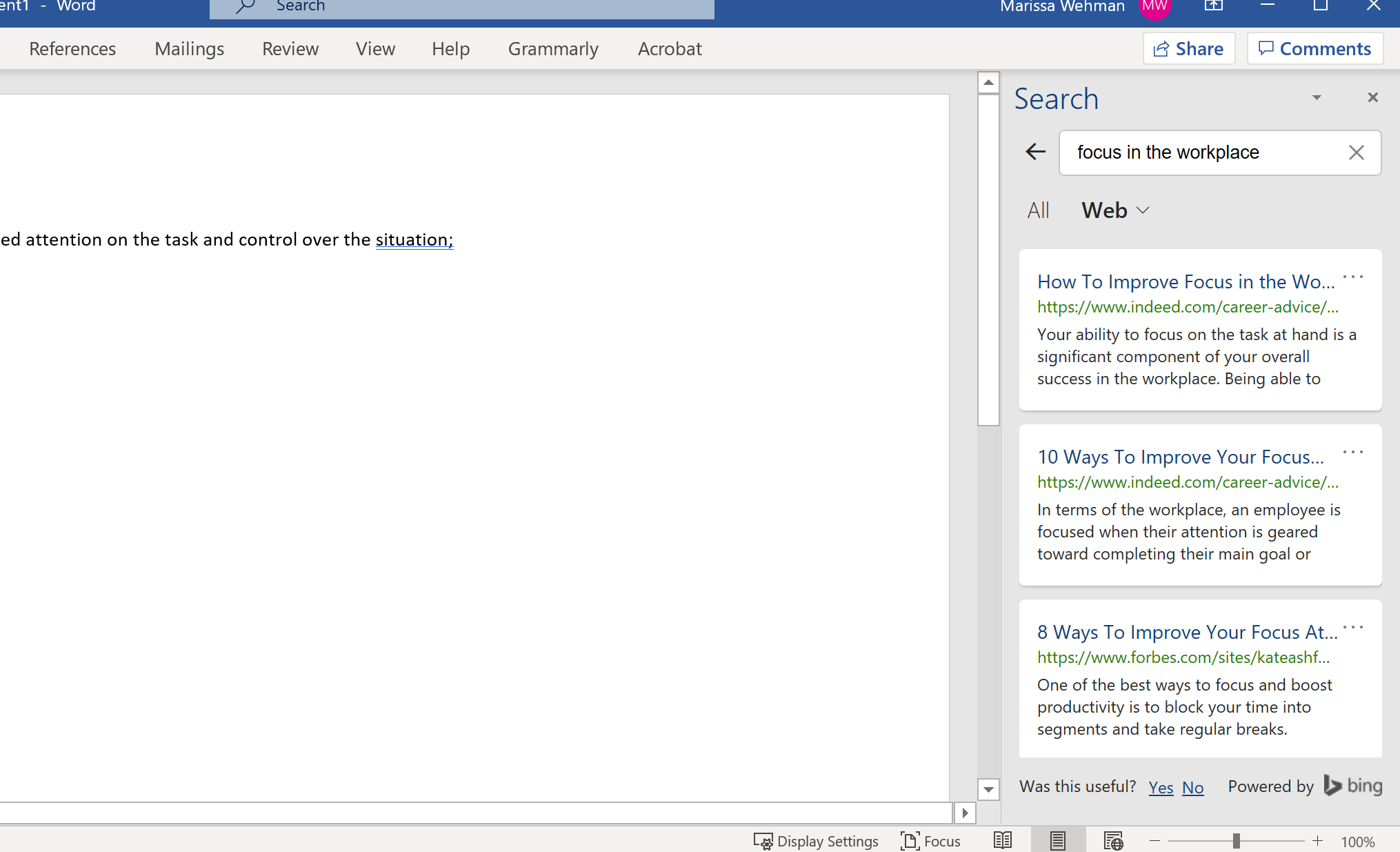 Looking to reuse information from a document shared by someone on your team? You can search from Word, locate the file, and insert some or all of the content.  
You can watch a demo of Microsoft Search's "reuse" feature in the Cheat Code video above!
Microsoft Search makes it easier to find the right information for you.
The search results are personalized to you and tailored to the app you're working in. 

It suggests searches based on your Microsoft 365 activity. This can help you be more efficient as you can quickly repeat actions or pick up from where you left off previously.
Connecting with people in your organization is easier as well. Whether it's your manager, team lead, or other team members, Microsoft Search will recognize people that you work with regularly to simplify sharing files or getting contact information. 
Check out our short how-to video above to learn all of the tricks that the Search tool can help you accomplish. 
Register now for our upcoming live webinar for more ways to be productive with Microsoft 365!
Join us on May 27th for our next 'Level Up' Webinar where we will show team members how to use Teams, OneDrive, and other Microsoft 365 apps more efficiently.